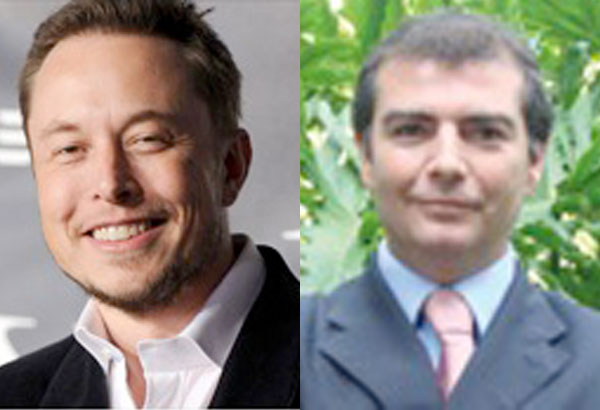 The only place where success comes before work is in the dictionary. —Vidal Sassoon
A man's worth is no greater than the worth of his ambitions.—Marcus Aurelius
When will we develop a Philippine economy that exports more engineering products and processed goods, instead of our talented engineers?
Who will be the future Steve Jobs, Lee Kun-Hee or Jack Ma of the Philippines in terms of technological and entrepreneurial innovations, so that we can produce our own Microsoft, Samsung or Alibaba?
When can our leaders prioritize more inclusive economic growth, rather than just be content with rosy quantitative growth statistics?
Instead of rent-seeking business people thriving on oligopolistic conditions and SME entrepreneurs struggling, when and how can we legislate anti-trust and other progressive policies to make the Philippine economy more competitive and truly be an arena of dynamic free enterprise in this era of irreversible globalization?
Technology should help people & simplify lives
What can the government, private sector and universities do to create an ecosystem that will encourage the flourishing of entrepreneurship combined with technological breakthroughs?
At a recent dinner in Shangri-La Makati, I was fortunate enough to be seated beside Singapore-based Italian entrepreneur Simone Ranuci Brandimarte of the mobile payments and loyalty solutions firm Goswift. His partners are top telecom and banking giants like Banco de Oro, Metrobank, and BPI. He was also the founder and former CEO of Buongiorno, a mobile marketing and digital entertainment firm that was sold for US$300 million to Docomo in 2011.
Despite typhoon Glenda disrupting hundreds of flights in our airports, Simone brought his top executives to Manila on a Bombardier private plane to proceed with his meetings.
Asked which entrepreneur in the world he admires most, Simone replied: "Elon Musk! He believes that technology needs to be designed to help the people. He believes that all investments need to be focused on how to simplify the lives of citizens. Unlike other businesspeople, he is not thinking of his self-interest when investing. For Elon Musk, innovation should help improve people's quality of life."
The 43-year-old billionaire is an ideal role model for enlightened capitalism. A physics and economics graduate of the University of Pennsylvania, he is an inventor, entrepreneur and investor whose colorful career was reported to be the inspiration for actor Robert Downey Jr.'s character in the Hollywood movie hit Iron-Man. In fact, Musk is often compared to the late Apple founder Steve Jobs as "technological madmen who want to change the world."
At only 28 years old, Musk made his first fortune by launching PayPal; at age 30 he launched electric car producer Tesla Motors; and at 31 he established aerospace technology company SpaceX with amazing plans to pioneer human migration to the planet Mars. Last year, Musk unveiled plans to build a new generation of transport called the Hyperloop, which is a speedy, sustainable and cost-efficient train with no rails topped with solar panels, and run by both electric motor and air-cushion dynamics.
Don't just follow trends, take bold risks
According to Forbes magazine (Summit Media founder Lisa Gokongwei-Cheng said they will come out with a Philippine edition soon), Musk's fortune has more than tripled in the past year, "clocking in at $2.7 billion for 2013. Stock in Tesla Motors, the electric carmaker he founded, went up 625 percent in the past year, and stock in SolarCity, the solar panel designer and installer run by his cousin, Lyndon Rive, is up 340 percent."
What are the success secrets of this amazing tech innovator and billionaire that we entrepreneurs and professionals can learn from? Musk shared five success tips at the May 16 commencement speech he gave at the University of Southern California:
Work super-hard, every waking hour. This is really no secret. If one person works 50 hours and you work 100 hours, you'll most likely have double the results of that other person.
Attract great people to work with you. Whether you're building a firm or working for a company, Musk advised that the most important thing is the kind of people you hire. Join a firm with people you respect or create a dynamic business by recruiting great talents. The success of a firm or organization ultimately depends on the talents, work ethic, team spirit and focus of its people.
Focus on signals over noise. Musk stresses that many businesses get confused and focus on things that don't really make their products or services better. He cited his Tesla Motors and how they never spent money on advertising but invested it all in research, development and production design. He exhorted, "Are these efforts resulting in a better product or service? If they are not, stop those efforts."
Don't just follow the trend. Instead of reasoning via analogy, Musk urges us to first find the fundamental truths and work backwards from there. This can help us analyze if something is truly making sense or we're just following a trend. This is important for companies hoping to be innovative.
For young people, now is the time to take risks. I agree with this piece of advice 1,000 percent! When we get older, we have family and other obligations, so we're more averse to taking on bold risks. "So before you have those obligations, I would encourage you to take risks now and do something bold — you will not regret it," Musk advised.
I would add that in case of failure or problems, the younger we are, the more physically and emotionally resilient we can be to make a comeback and try again. Let us take bold yet calculated risks!
* * *